According to a new market research report published by Credence Research "3D Gaming Console Market (by Component Type – Hardware and Software, by Console Type – Home Console, Handheld Console, Micro Console and Dedicated Console; by Platform – Microsoft Xbox, Sony PlayStation and Nintendo; by Technology – Polarized Shutter, Virtual & Augmented Reality, Xbox IllumiRoom, Autostereoscopy, Active Shutter Technology, Leap Motion Technology and Others) Market – Growth, Future Prospects, and Competitive Analysis, 2018 – 2026", the global 3D gaming console market accounted to exhibit CAGR of 14.2% across the forecast period through 2018 to 2026.
Browse the full report at https://www.credenceresearch.com/report/3d-gaming-consoles-market
Market Insights
Since the invention of first commercial video game in 1972, gaming industry witnessed significant evolution and became multibillions-dollar industry. The console industry began to develop after the introduction of better hardware and inventions of next generation technologies. The industry has its crashes in the early stages due to poor standards of games, however revived with evolution of several monitoring authorities and quality assurance method. Gaming consoles are commonly referred as systems that enable players to interact with the game by using special controller or joystick. Current 8th generation consoles utilize cutting-edge technologies including Blu Ray, motion sense technology, virtual reality (VR), HD quality video and online functions.
Market Synopsis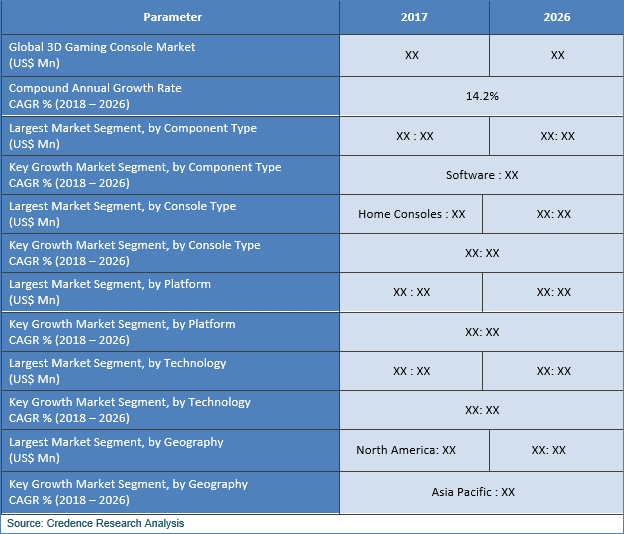 Overall 3D gaming console market is segmented on the basis of component, console type, platform type, and technology. 3D gaming console market is commanded by the home console segment primarily due to simple control schemes offered by such consoles. Similarly, handheld consoles are set to witness higher demand across the forecast period. There are several multiuse handhelds consoles such as PlayStation Portable that enable to play movies and music on go. North America was the leading market for 3D gaming console in 2017, primarily supported by the U.S. In 2017, U.S. gaming market was worth more than US$ 30 Bn in software and hardware sales, registering increase of four times the market size in 1990. However, Asia Pacific region ha started to catch-up with rapid pace. For instance, China is the leading gaming industry market across the world accounted for more than US$ 34 Bn in 2017. Similarly, Japan ranked as third largest market for gaming industry with value of more than US$ 17 Bn. Burgeoning markets such as India, Korea and Taiwan are expected to accelerate with rapid rate, thereby stimulating 3D gaming console market here.
Another prominent factor driving the 3D gaming console market is growth of online gaming industry across the globe. Market for online gaming industry expected to cross US$ 40 Bn in 2018 across the globe with growth rate of more than 8%. Initially designed for PCs, online gaming industry goes beyond its convention platform and penetrated web-enabled tablets, smartphones & consoles. Rapid penetration of internet in gaming console across the world has brought several consumers on digital gaming platform. With continued technological development and multiuse functionality, 3D gaming consoles are expected to witness immense growth across the globe.
Software Segment to Witness Higher Growth Rate in 3D Gaming Console Market
Software segment expected to experience higher growth rate compare to hardware segment across the world. In-house software development domain, third party contractors or independent developers participate extensively in software development for 3D gaming consoles. In-house developers are owned by publishers and therefore usually have less autonomy, thereby enjoys higher funding security than their counterparts. Consumers' expectations of high-gloss, graphic intensive games, has seen the higher costs of developing a video game software. Rising costs have forced a shift in this upstream market as independent developers are struggling financially to compete. Further, Garage Games, one of the largest Independent developers stated that lack of access to open platforms or tools in console software development is a considerable obstacle. With developers struggling for financial backing and larger firms recognizing competitive advantages in the sole rights over top developers, this industry experiences high levels of mergers and acquisitions. For instance, Microsoft successfully acquired Rare an In-House Developer from Nintendo; further it purchased Loinshead, a former Third Party Contractor.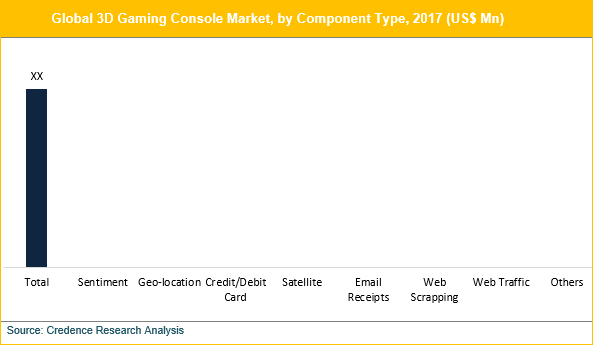 Early Adoption of 3D Technology to Ensure Dominating Position of North America Market
Presently, North America is the front-runner in the overall 3D gaming console market. North America is the headquarters of Microsoft Corporation, the leading IT Company in the world, engaged in manufacturing, developing, supporting and licensing of 3D console software products. Additionally, region accounted as the largest retail market in the world for gaming consoles with a sales volume of 12.27 Mn units in 2017, a worldwide market share of 37%. Further Asia Pacific expected to experience higher growth rate across the forecast period. Japan houses two of the big three console manufacturers Sony Interactive Entertainment Inc. and Nintendo Co. Ltd., thereby producing over 85% of the global console business. This equates to a strong upstream and downstream market of gaming industry in Japan. However, in recent years, Japanese market has declined due to the rigorous sales of second-hand products and upcoming markets like China, India and Vietnam may soon replace it as the focal point for Asia Pacific region.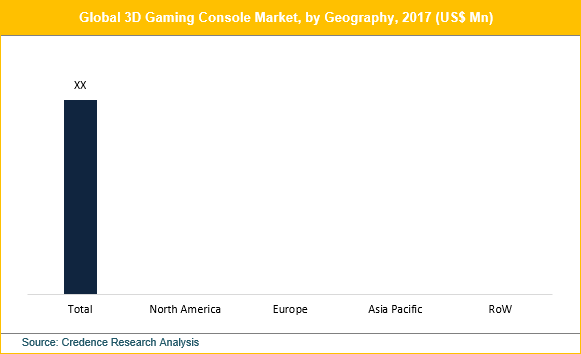 Improving Gaming Experience with Technology Advancement to Remain Key Strategy for 3D Gaming Console Providers
The 3D gaming console market is growing steadily from generation to generation with very few numbers of players leading the market. Each console manufacturer have their own established online markets that is accessible using the specific console. Introduction of microchips enabled consoles to run by a single chip, thereby making production of consoles simpler and opening the market opportunities for new market entrants. After 5th and 6th generation of gaming consoles, Sony Interactive Entertainment Inc. and Microsoft Corporation entered the market. In 2017, Sony Interactive Entertainment Inc. ruled the market with capturing over 40% of all console sales. Many of the world's largest firms are not global but regionally based. For instance, Sony Interactive Entertainment Inc. classified as a truly global company; Microsoft Corporation categorized as home-region oriented; and Nintendo, which sells over 50% of both its software and hardware in the USA, categorized as host-region oriented. Key players of global 3D gaming console market include Electronic Arts Inc., Activision Publishing Inc., Kaneva LLC, Avatar Reality Inc., Linden Lab Inc., Oculus VR, Microsoft Corporation, Nintendo Co., Guillemot Corporation S.A. Sony Computer Entertainment, Logitech International S.A., and others.
Key questions answered in this report
What was the market size of 3D gaming console in 2017 and forecast up to 2026?
Which is largest regional market for 3D gaming console?
What are the key market trends observed in the 3D gaming console market and outlook for gaming industry?
Which are the most promising component type, console type, platform, and technology in 3D gaming console market?
Who are the key players leading the market?
What are the key strategies adopted by the leading players in market?
What are the key gaming industry trends across different geographies and sub-geographies?
[Total: 1 Average: 5/5]
You must sign in to vote